"Thank you for your kind assistance in getting us hooked up with your valve covers and push rod tubes for our little buggy.  Kindly, you requested a couple of photos and although she's not a fancy show car, she certainly has a place in our hearts and has opened many doors for us in terms of fun and friendship.  Love the MST components and plan to add some more in the near future!While I'm at it, one of our club members, and a good friend Bill Knesek, asked me to say hello and thank you for providing the crank pulley clocks we give our club members at the annual Buggy Roundup event held each September, Labor Day weekend.  And yep, I have one sitting on my dresser!"
- Richard M
"I wanted to say thank you one last time for the assistance and great customer service that you provided in regards to the pulley set I bought. They have been installed and the motor is almost completed. Attached is a preview of how it looks on the bench stand right now. Take care and God Bless!"
- MontyJoe M.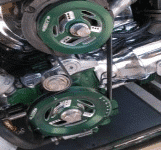 "I attached a photo of the Serpentine system on our buggy. It really does look good. Thanks for your support. If you ever need a good word about your product, let me know."
- Ben Giles
"Hey guys, have a better pic of my 67 vert engine with the MST accessories. Hope you guys can use it. If you need anything let me know. Again, thanks for taking care of me!"
- Mike Beltran
"Check out this great lime green Serpentine Pulley System from Mike Waddle."
- Mike Waddle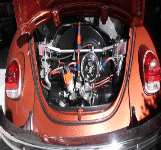 "The new pulley and sand seal is working out great, no Leaks. I went on a run this Sunday with several different VW clubs here in SoCal, 45 VW's and had some people interested in my belt setup and I referred them to MST. Thanks again for your and Ken's help. MST is the best."
- Ben Giles
"It was nice to meet you as well. Hope you guys liked the pictures. I love your products and will recommend them to anyone."
- Todd F. Ziegler Jr.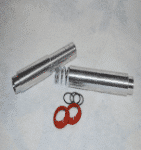 "We just ordered our second batch of push rod tubes, and after using every make and style out there for almost 40 years, yours DON'T leak. We will not be using any others as long as you guys are making them."
- Morris Racing Products
"Not all parts are on until I put it in the car. Will be running dual 34 ICT webers on this one and a single 44 weber on my 57″ oval/ragtop. Hope you approve!"
- First Sergeant Robert K. Maggot
"Thank you for the valve covers, it all looks great! Awesome!"
- Miquel Zepeda
"It is working great!"
- Perry Williams
"My father-in-law and I am impressed by the quality of the product. Would recommend to friends without thinking twice."
- Dan Skowronek
"Here are some pictures of the engine without the decklid. Looks great and thanks a million.. will be handing out some of the stickers you guys sent me. As always a great product.."
- Lynn Johnson